Strong currents, big waves, rapids and hidden dangers – these are all the stuff of river rafting. Most people who know nothing about rivers will misjudge what they are looking at. The trained and qualified riveer-runner can "read" the water and will plan the best "line" through difficult rapids. If and when accidents happen, rescue must be quick and effectively led and organised.
River Proficiency Course
This 4day course is an introduction to the skills, organisation and communication required for safe and enjoyable river rafting in South Africa. The course teaches essentials of safety and rescue as well as group leadership. It is aimed at anyone interested in doing river trips from short routes to multiday raft camping.
It is for individuals in any walk of life who want to trip on rivers for pleasure or profit. Club captains and safety officers, emergency services personnel, hikers, school teachers and many others who face outdoor challenges, may attend.
Those intending to follow a guiding career in any adventure field will benefit from having river skills. Those registering for the legal guiding qualification, GASG, must pass a later assessment in the skills to obtain the Technical Certificate of Personal Competence. Together with Wilderness First Aid and Casualty Evacuation the future river guide requires these certificates along with 21 days logged on organised trips.
The course supervisor is Prof Graeme Addison, the "river professor" who founded rafting in SA and has published books on world rivers and rafting techniques. He is supported by other experienced trainers.
The course includes nights camping with full self contained equipment for expeditions. Also included are lessons in catering, the law affecting trip organisers, and environmental care.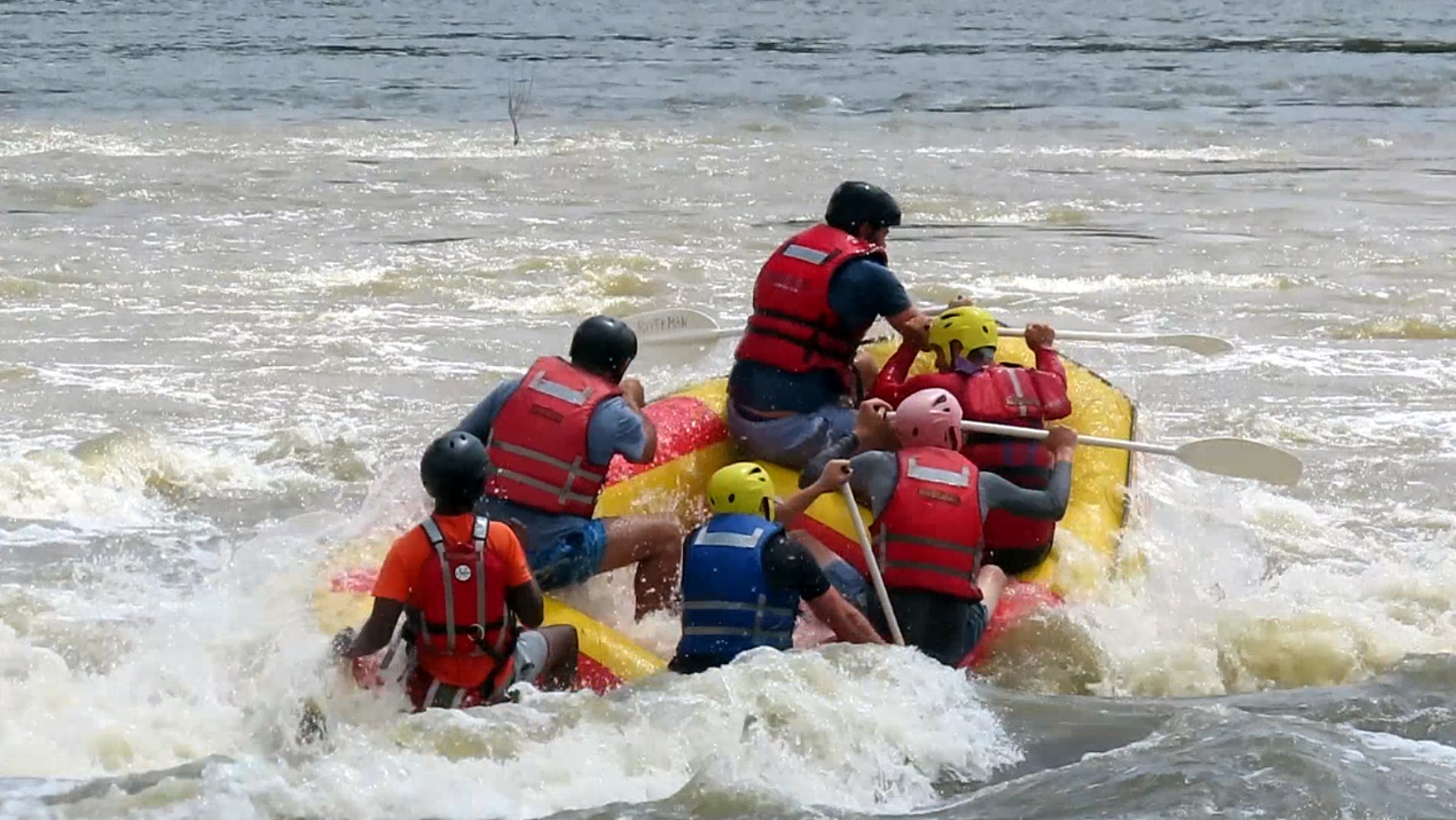 River Guiding
Members of the public who come for the fun and excitement of rafting have little idea of the expertise needed to guide people safely down rivers. To become a river guide you will be put through intensive training and given the chance to build up experience (logged time). The more rivers you do, the more "river time" you have, the better will be your ability to handle safety, rescue and emergencies.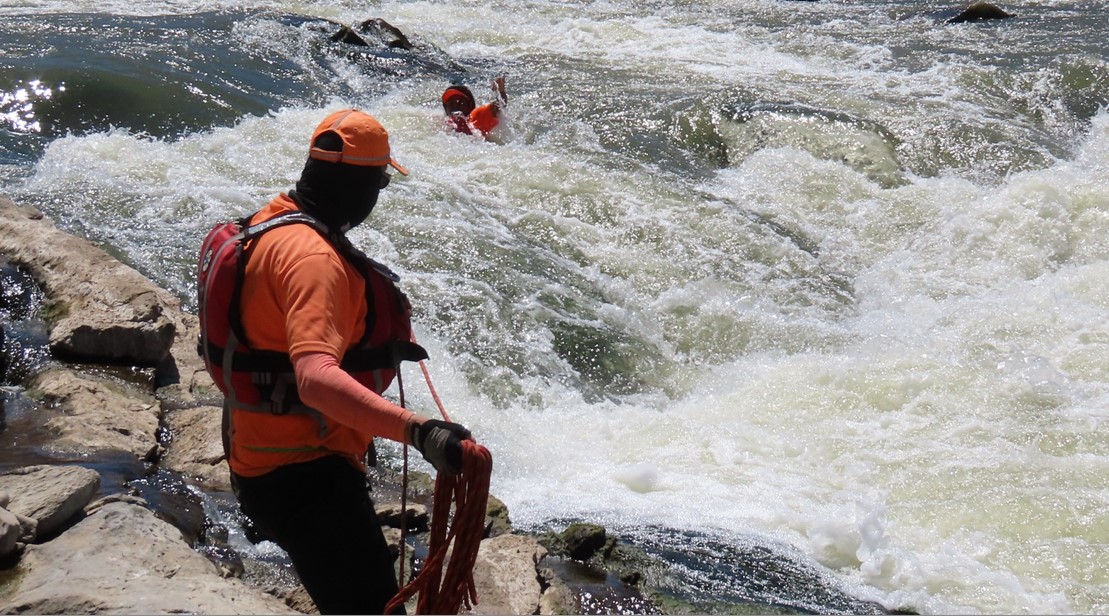 What to expect
Sessions begin early and end late – from dawn to dusk and into the evening. This prepares you for long days on the river and nights chatting around the campfire. The course is a comprehensive introduction to the sport and it lays the foundation for river guiding. Watch the typical course video.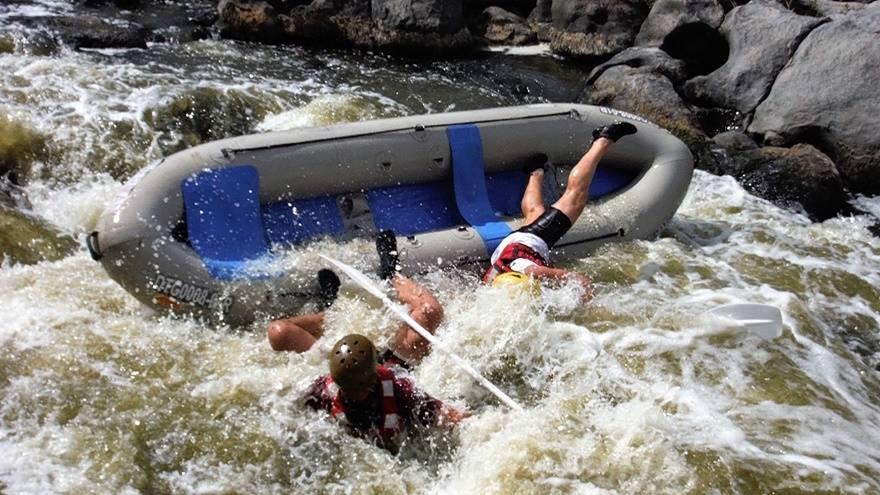 The Croc
The famous 2-seater Croc is a South African design now used all over the world by tripping companies. It is also in service by Emergency Teams during flood rescues. It was originally conceived by Prof Addison and the prototypes were tested in his rafting operations on SA rivers.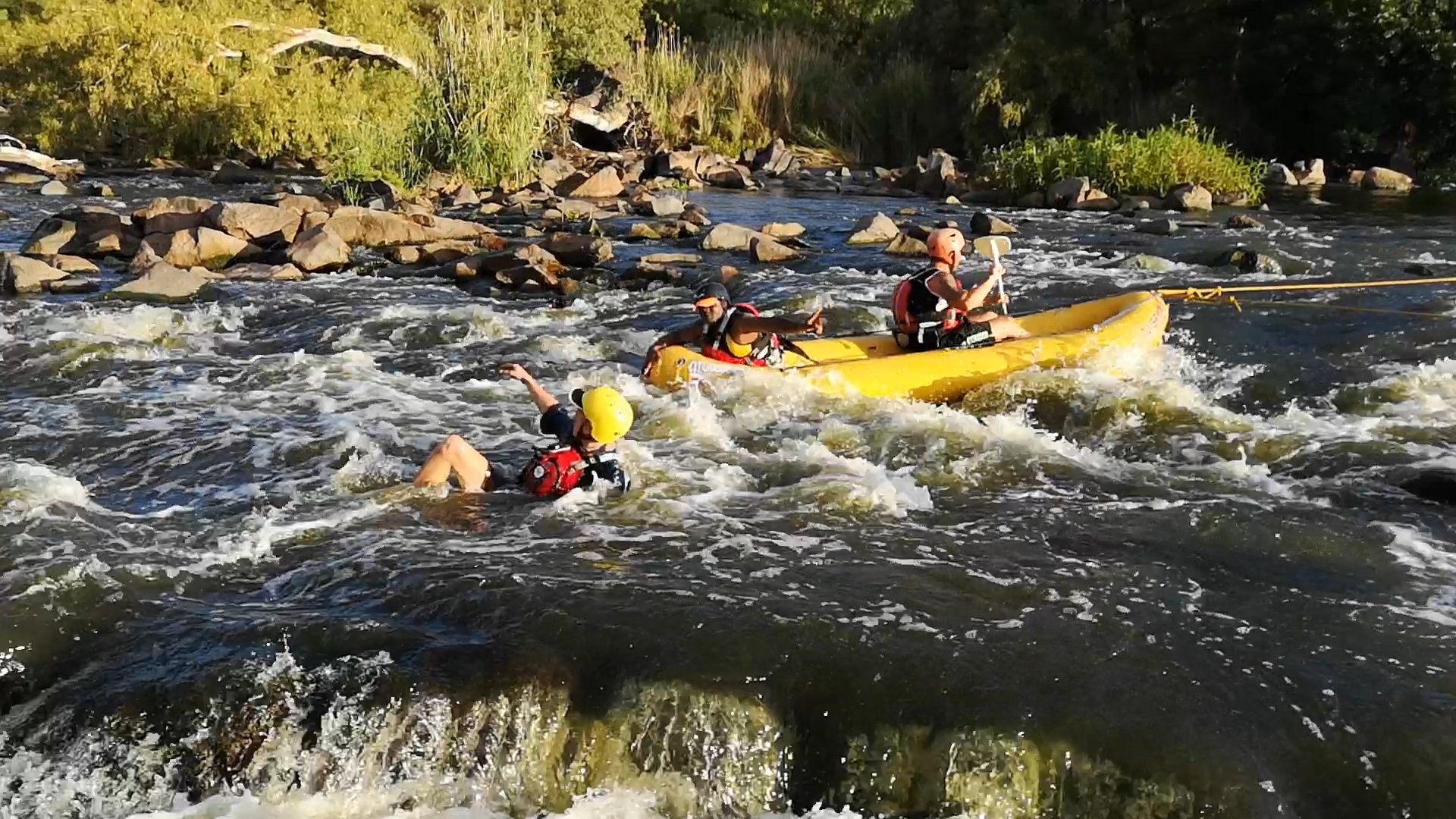 Course programme
No experience is required. The course covers all the basics of safe river trips, including reading the river, types of river craft, paddling skills, wading and swimming in rapids (we teach swimming for those who can't), essential knots and river ropework, safety & rescue methods, raft camping, dealing with emergencies, group leadership and control, trip organisation and planning, river routes in SA, costing, trip reporting and adventure photography.
Course curriculum

The above checklist is used for the course curriculum. This becomes the basis for the assessment of river guides who register for the legal qualification. See the details here.
All course materials are available online in the form of presentations, books, notes, videos and photos. The course you join is also filmed, for discussion, and the pictures are put online to share.
Certificates
All who satisfactorily complete the exercises get a Certificate of Performance. They are evaluated and given personal guidance. Those who are going on to enrol for the Generic Adventure Site Guide (GASG) qualification may be assessed after studying the materials provided. The assessment leads to the Technical Proficiency Certificate which proves one's personal ability in rafting, up to a stated level or "scope".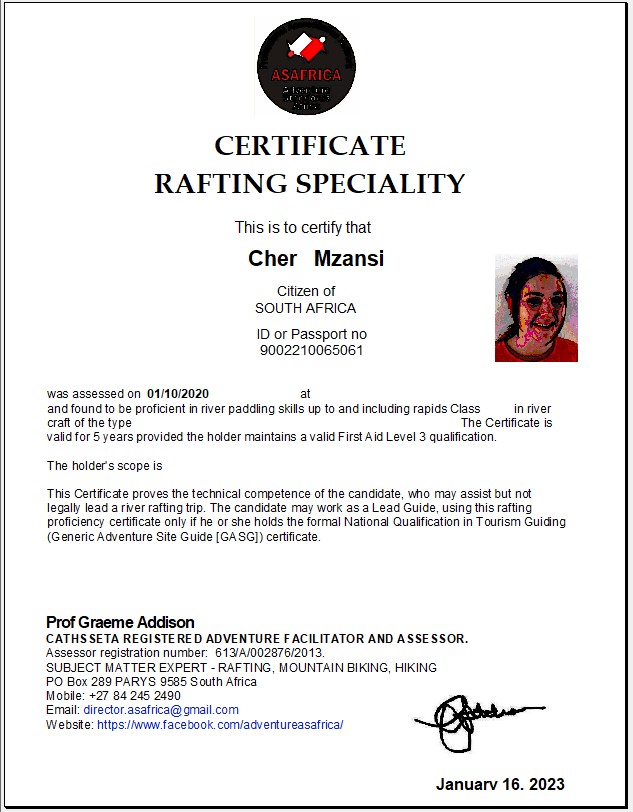 Other items that will be required for the technical certificate to be issued are an up to date Wilderness First Aid, Casevac certificate, and a logbook (minimum 21 days on organised trips). AsAfrica provides all necessary training and opportunities to gain experience.
INQUIRIES: WhatsApp +27 84 245 2490